16 Dec 2021
UK Disability History Month Volume 3 - The Landscape is Changing, but it's Only the Beginning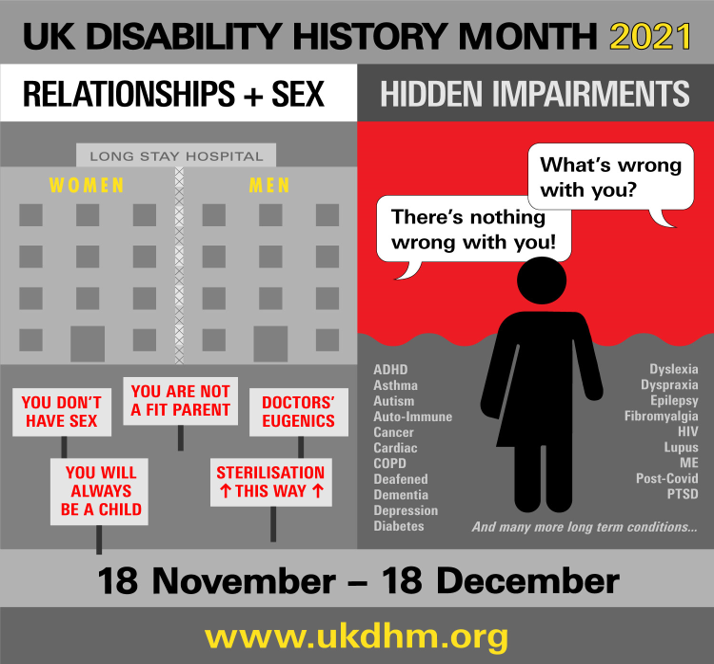 A Changing Landscape
It is true that cultural shifts are mostly downstream of media. Our popular culture shapes our cultural identity and one of the beauties of capitalism is that the market will create products, services and solutions that align with the needs of our cultural identity. (xi)
We have seen this market phenomenon in action since the turn of the century. For example, multiple dating sites designed specifically for people living with disabilities have sprung up to meet a market need. Whispers for You formed in 2002, Stars in the Sky and Dating4Disabled formed in 2005 and many others have followed since then. Stars in the Sky and fellow competitor sites Outsiders and Search Mate featured on the hit show The Undateabales, a 2012 production that ran for 11 seasons. (xii) The show featured couples with a mental or physical impairments on dates and provided the public with valuable perspective on relationships between two people who each live with a disability.
Shows like The Undateables demonstrated that the disabled community was beginning to be seen as its own consumer group with its own behaviour patterns and purchasing trends. This was reflected by market forces as companies formed specifically to cater to the disability market. For example, casting agencies like VisAble now exist to source mainstream professional opportunities for actors, presenters, and models with disabilities. The correlation between the shift towards accurate, humanistic portrayal of disabilities in the media and an increase in disability specific products and services cannot be ignored.
This market trend is also reflected in the growth of product and service offerings within the market, specific to relationships and sex. Francesca Cross was inspired to launch her company, The Pleasure Garden after noticing a demand that simply was not being met. "I couldn't find any sex shops in the UK that were explicitly inclusive of disabled people, so I decided I wanted to do something about it – and that's how The Pleasure Garden started." (xiii) Since launching her company she has seen changes on screen and on the high-street. "It feels like there is a definite trend towards inclusion at the moment. There are more and more positive depictions of disabled people in loving, passionate relationships in the public eye. At the same time I am seeing an increase in the number of manufacturers who are taking accessibility seriously as a feature of their products. People are recognising that accessibility adds value to their products and their brands."
In 2013 two best friends started Hot Octopuss, a Naidex 2021 exhibitor and a company that actively works to break down stigmas around different forms of sexual expression, for example, around older and disabled people. One of the founders Kelly, commented on the Hot Octopuss website: "I think as someone with a disability people often assume you are limited sexually, and aren't able to explore as much as someone who is able-bodied. I have made it my personal mission to bust this myth...".
There is still change that needs to take place so a greater level of understanding around disabled relationships and sex exists within the general population. The romantic and intimate lives of disabled people have been marked by a history of oppression, abuse and de-sexualisation. (xiv) The attitudes encompassed by fear and misunderstanding which have been built up over time won't change overnight. A 2017 study found that despite the emergence of new ways of viewing and treating disabilities based around the social model of care, the experience of sexuality by people with disabilities is still aesthetically subjugated to the 'tyranny of the normal'. (xv) In other words, an amputee is de-sexualised because to be attractive by societal standards the individual must be considered normal.
Like Hot Octopuss, there are a slew of other companies producing services, products and innovative technology that not only helps the disabled community have fulfilling sexual relationships, but also seek to broadcast a positive, realistic message about disabled relationships and sex.
Naidex Exhibitors Innovating to Create Change
Maxtek Go-Go Co,. LTD
Maxtek Go-Go create products using proprietary technology that emit a low frequency wave to stimulate deep muscle tissue and accelerate blood circulation. A barrier to people with physical impairments having healthy sexual relationships is muscle atrophy and Maxtek's innovative products help prevent that from happening.
Church Farm Barns – Norfolk Disabled Friendly Cottages
A central piece of the social model of disability is the critique that society has been designed for solely for neurotypical people. This can be observed in infrastructure design and commercial projects. We often see that disabled access is an afterthought or a product of regulation following, a walk ramp at a main entrance or a single disabled toilet. Rarely are premises constructed with the sole objective to provide an immersive experience for people with disabilities. Church Farm Barns is one of those rare companies. The family run business has eight renovated farm buildings which have been converted to a high standard to accommodate the disabled and their families. Romantic weekend getaways that don't involve dealing with neurotypical societal design are rarely an option for disabled people in relationships but with Church Farm Barns they are.
Para Dance UK
Para Dance is a UK charity with the aim to make dance accessible for all as an inclusive leisure activity across the country. They have set up groups across the UK at a local level that meet regularly. Dancing with a disability can be a daunting prospect if it isn't something the individual feels confident about. Creating a space that is not only safe but offers active support and training is important. Dancing with your partner is something we all look forward to in relationships, able-bodied or not. Para Dance work to ensure the experience is accessible to everyone.
Conclusion: There's Still a Way to Go but we are Heading in the Right Direction
The companies above, including Hot Octopuss, are just a handful of companies that produce products, solutions, facilities and service offerings that enable people within disability relationships to have the same experiences as able-bodied couples.
The information above demonstrates a clear timeline of how attitudes towards people with disabilities, especially around relationships and sex, are beginning to change. The changes have been built on a foundation of legal advances and cultural shifts, none with more impact on a mass scale than role played by the media.
This is no better illustrated than by conclusions drawn from a 1993 paper on the 'evil crip' concept. Researcher Marilyn Dahl found that, "although personal interaction is the most effective medium for conveying the personal experience of disability, the mass media can be an effective vehicle for bringing about greater understanding, and a consequent gradual change in public perceptions, of people with disabilities". (xvi)
References
(i) - Gurevitch, M., Bennett, T., Curran, J., & Woollacott, J. (Eds.). (1982). Culture, society and the media (pp. 56-90). London: Methuen.
(ii) - https://www.able2uk.com/news/film/dating-sites-covered-in-the-undateables
(iii) - https://metro.co.uk/2018/01/03/disability-shouldnt-limit-your-sex-life-here-are-some-of-the-sex-toy-industrys-most-innovative-solutions-7131576/
(iv) - Rembis, M. A. (2009). Beyond the binary: rethinking the social model of disabled sexuality. Sexuality and Disability 28(1), 51–60.
(v) - Malinowska, A. (2018). Lost in representation: Disabled sex and the aesthetics of the 'norm.' Sexualities, 21(3), 364–378.
(iv) - Dahl, M. (1993). The role of the media in promoting images of disability: Disability as metaphor, the evil crip. Canadian Journal of Communication, 18(1), 75.