14 Dec 2021
UK Disability History Month - Volume 2 - Disability in Hollywood and the Media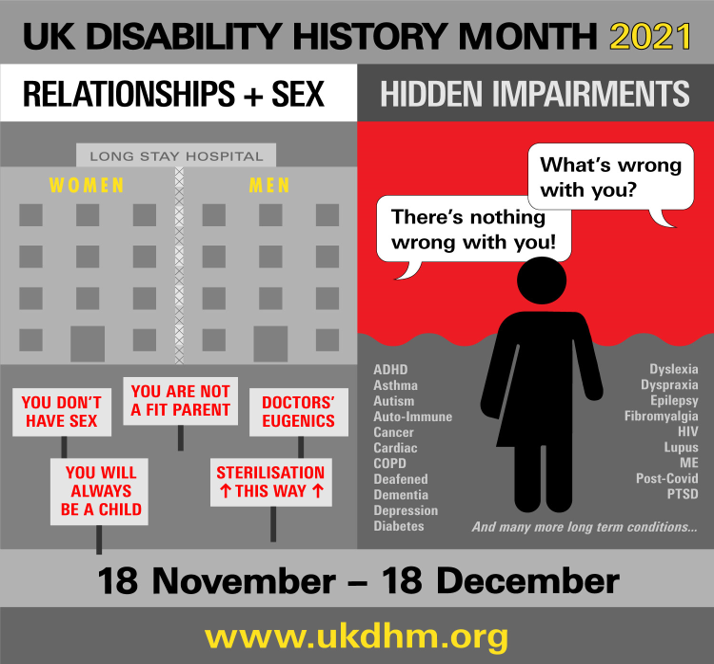 Change in Culture is Downstream of Media
Whilst the law changed in 1995 and again in 2010, a cultural shift was needed to change people's perception of disabilities. More specifically, the public needed to be made aware that people with disabilities aren't the problem; that the world was designed in a way that doesn't account for their differences. This is still an ongoing battle. In a 2017 study done by The Media, Diversity, & Social Change (MDSC) Initiative at University of Southern California's (USC) Annenberg School for Communication and Journalism, only 2.5% of all speaking or named characters in the year's 100 most popular films were shown to have a disability. (i) This shows that whilst there have been improvements, there is still a reluctance to include authentic disabled roles in film.
Hollywood
Our culture is heavily influenced by the media we consume. TV shows, movies, podcasts, and every other media form have an impactful effect on the way we think. Traditionally, media portrayed disabled people as sick, weak, in need of a cure and requiring help from others to navigate life. (ii) This was reflected in films and T.V. with the disabled characters often playing roles such as a burden to the protagonist, an object of curiosity (the freak-show concept), or an evil villain that uses their disability to fuel their nihilism (the evil crip concept). There are numerous James Bond films that feature villains with disabilities and Captain Hook (Peter Pan), and Scar (The Lion King) are even named after their disabilities, continuing the spread this harmful stereotype. (iii)
Even when attempting to portray disabled people in a positive light, their disabilities were seen as a handicap the character needed to overcome. The 1962 film The Miracle Worker about Helen Keller learning to communicate with the help of Annie Sullivan is a good example of showing a disabled person needing to 'triumph over tragedy'.
This began to change in the early 2000's and whilst the change has been slow, many films and TV shows that have been made in recent years featuring a disabled role or character have displayed the disabilities authentically and in line with anti-ableism principles.
Frida, a 2002 movie about the famous artist Frida Kahlo, brilliantly tells the story of how Kahlo's art reflected her feelings of being disabled in the context of its creation. As Kahlo said, "I never paint dreams or nightmares. I paint my own reality". (iv)
In 2019 actor Zach Gottsagen, who lives with Down's syndrome, starred in the critically acclaimed film The Peanut Butter Falcon alongside Hollywood A-listers Dakota Johnson and Shia Lebeouf. Charlotte Woodyard, who lives with Down's syndrome and works for the National Down's Syndrome Society in the USA feels the message the movie sends is incredibly important. "I really, really urge you to go see this movie because it is the embodiment of what self-advocates like Zach and I are capable of!" (v)
Television
Television has also seen a host of programmes that have sought to shine a light on the challenges disabled people face in society.
Every Time You Look at Me, a BBC drama from 2004 featured two disabled actors in the lead roles and covered serious relationship issues that the British public were rarely introduced to.
Don't Take My Baby, a 2015 Channel 4 docu-drama which turned the spotlight on the fraught issue of social services unjustly taking away the children of disabled parents, was especially important. Disabled people were played by disabled actors and the programme highlighted an issue that has not been showcased before on television.
Whilst a handful of television series and a few movies seems like a drop in the ocean, each production is a vital part of the puzzle when it comes to changing attitudes. This is especially the case as productions continue to go ahead that depict disabilities as evil. In 2020 Warner Bros Produced "The Witches," a Roald Dahl adaption in which the main evil character is depicted with split hands (ectrodactyly). (vi)
Regardless of some productions falling foul of the social model, there is much cause for optimism. Famous portrait painter and epileptic, Allan Sutherland wrote, "...that the very fact that previous representations of disability have been narrow, confused and unimaginative leaves the way open for disabled writers and film makers. What we can produce can blow the past away."
Podcasts
Long-form discussions also have a role to play in the shift towards a social model of disability. Andrew Morrison-Gurza is the host of the popular Disability After Dark podcast which explores various aspects of life with a disability in a long-form context, featuring individuals that can speak on the subject from personal experience. The fact the podcast is so popular demonstrates the need for this type of content.
The podcast often touches on sex and relationships. Andrew had this to say when asked by Huffpost about why he's so open and honest about his personal matters: "Whenever we talk about sex and disability ― if we dare ― it is in this painfully sanitized way that tends to tell you nothing about the person with a disability, their sex or what they actually want ― it doesn't shed any light on how it really feels, and I wanted to take a stab at that".
The Grumpy Gits podcast has taken the essence of what Allan Sutherland wrote and turned the opportunity he spoke of into the world's most listened to disability podcast. Simon Sansome, one of the podcast hosts, is also the author of Ability Access, the incredibly popular blog and Facebook page that reaches 20 million people every month. In 2019 Simon commented on his celebrity: "This year at Naidex, where I went there to promote Ability Access and do a bit of networking, I had people actually coming up to me and asking for photos, saying; "Hello Simon, how are you?" I was not expecting that … I am surprised and relieved that people are taking to the podcast and blog in such a positive way." It's a further example of the demand that exists for long-form content on this topic, and the effect it's having on the disabled community.
Simon's fellow podcast host and close friend, Adam Pearson has starred alongside Scarlet Johansson in the award-winning film Under the Skin, as well as producing a handful of BBC documentaries. His documentaries Adam Pearson: Freak Show and The Ugly Face of Disability Hate Crime were both applauded for the perspective they provided.
Andrew, Simon and Adam are just three individuals but arguably have a more impactful effect than a TV show or movie ever could, as do the many others working on similarly positive projects. The masses couldn't access this type of content before and therefore, were unable to consider this perspective. To change someone's attitude towards something they don't really understand they need to be provided perspective. Andrew, Simon and Adam, among the many others, achieve this successfully.
Sport
The Paralympics are a major driving force in pro-disability culture. However, it is hard to harness the momentum generated by the event with such a large amount of time between each edition of the games.
It is for this reason why the impact of sports stars like Aaron 'Wheelz' Fotheringham are so important. In a wheelchair since aged eight due to spina bifida, Aaron never gave up on his dream to become an extreme sports star. He is now considered the Cristiano Ronaldo of wheelchair athletes, holding three separate Guinness World Records and featuring in Nitro Circus, the global action sports show that travels the world. Aaron is the epitome of the Naidex slogan, 'Anything is Possible' and the impact he has on the confidence of wheelchair users will never be truly quantified.
In a 2017 CNN interview about his life Aaron said this about his wheelchair: "My wheelchair has taken me all around the world to do competition. With a wheelchair, yeah, there's hard times, and there's struggles, but it can open so many doors that weren't there before. I've always said that my wheelchair has taken me further than my shoes ever could."
References
(i) - https://www.respectability.org/2019/08/peanut-butter-falcon-interview/
(ii) - https://www.inclusionlondon.org.uk/disability-in-london/social-model/the-social-model-of-disability-and-the-cultural-model-of-deafness/
(iii) - https://theconversation.com/no-time-to-die-the-problem-with-bond-villains-having-facial-disfigurements-169411
(iv) - https://www.goodreads.com/quotes/552107-i-never-paint-dreams-or-nightmares-i-paint-my-own
(v) - https://www.ndss.org/the-peanut-butter-falcon/
(vi) - https://www.nytimes.com/2021/07/28/arts/television/disability-representation-study-film-television.html