14 Nov 2019
Twelve Tips for Christmas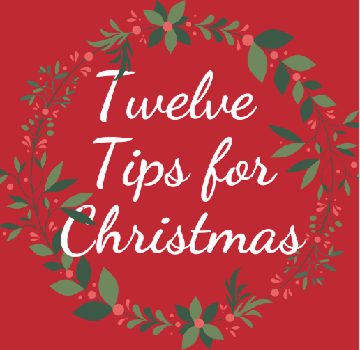 Christmas should be a time of joy and laughter. So it's sad that it can easily turn into a seasonal stress bom. Here's a quick guide to help put the sparkle back into your celebrations.
Sometimes, all of the good things about Christmas can turn out to be everything that's difficult about Christmas. The excitement of the season is a lot of fun but of course will inevitably lead to a scrum at the shops while even in your own home, the glittering lights and challenges of maintaining something close to a routine can be difficult for people with intellectual disabilities for example.
Shopping
Christmas doesn't come in a box but of course, presents are an important aspect of what people love about it. Lots of items can be ordered online in a matter of clicks but beware of postage deadlines and returns policies. If that doesn't suit you, it's a good idea to put together a relatively comprehensive gift list. This will help you to ascertain which shops you need to visit, rather than struggling to visit places that you don't really need to. You may even decide on a particular route that takes in lighter shopping first and heavier shopping last – and has a built in break at a restaurant for lunch (which you'll have booked in advance, because you're clever like that. The friend you took along to help you get around will also enjoy that bit.
Consider shopping at quiet times, such as weekday mornings and choose places where access and facilities are good – such as shopping malls (where you'll also probably find Blue Badge parking spaces). You should also look into services such as click and collect – or ring up to see if a particular item is in stock (and whether they'll reserve it for you) to make things easier.
Communicate

Sharing ideas about how things are going to run on and around the big day is essential to avoid disappointment and frustration. Some people have a defined idea of what happens and when at Christmas. Aim to have a flexible approach but remember that you cannot please all of the people all of the time.
Gifts

One thing you might discuss with friends and family is gift giving. You could all decide to set a reasonable gift budget or decide to club together to buy something extra special for the children, or even for a bottle of something delicious to go with Christmas lunch.
Importantly, you need to also make sure that well-meaning people don't purchase something that is inappropriate. This could include toys that will over-stimulate or that are too complicated for use by a particular child, etc. Have a solution for if they ask – or drop a heavy hint if they don't.
If you know that a gift requires assembly (especially for a child) consider building it before wrapping it unless you want to spend Christmas day turning a screwdriver.
Wrapping paper can be difficult for people with complex needs. Wrap things loosely and think about using bags and boxes where necessary.
Stimulation

Christmas, by its very definition, is a colourful, noisy time where normality can be difficult to hang on to. This is one of the reasons why it's so exciting but is also why people that shelter within routine and familiarity can struggle with it.
Where possible, aim to keep at least part of your routine and perhaps reserve a room or other space as a 'quiet' area which is left without Christmas decorations etc, and can act as somewhere to take a moment of calm.
Dementia

Christmas lends itself to nostalgia. It's always important to try to include people with dementia in activities and conversations anyway, but at this time of year Christmas carols and games can really help – not to mention years' worth of stories of Christmas from days gone by.
Your Place or Mine

There's every likelihood that you'll be gathering with friends and family. In any case, you'll need to try to build not only around different people's expectations of what Christmas should 'look like' but also stuff like dietary requirements (allergies), and routine should they need to take medicine (possibly with or without food) or have a sleep to avoid fatigue, etc.
Consider putting up the Christmas tree later than other people and removing it earlier and using an air purifier to reduce the risk of contact with pathogens – or have a living tree outside.
Christmas Trees
If you're unable to put up a tree on your own, don't worry. You might be able to organise a drinks party where friends and family gather to enjoy decorating it (and other parts of the house). If you have allergies to dust, spores, mould or pollen you might consider purchasing a 'fake' tree. (If you are using a fake tree year-on-year, make sure that it is hosed down outside and dried since it too will have started to harbour dust etc, having lived in the attic all year.)
Getting There

Think about how you'll arrive and get back, especially if you use public transport since services rarely run on Christmas day. Other options such as taxis can be seasonally expensive and/or fully booked if you don't book in advance. Keep in mind also, that even the usual designated driver might like a glass of sherry at Christmas.
Children

Disabled children aren't always fully able to comprehend disability.
Although it's quite normal for parents to roll out the 'Santa won't come if you're naughty' threat to excitable youngsters, it's a risk strategy. Disabled children need to know that their disability is not their 'fault' and that they aren't to blame because of how naughty they are. Parents might instead use the self-fulfilling prophecy that 'Santa always rewards good children'.
Meals

The Christmas dinner is a mountain of a meal, so climb it in stages. Vegetables, for example, can be chopped and par boiled (or even frozen) in advance - or buy pre-prepared. You might even suggest that friends joining you for dinner prepare something and bring it along, thus sharing the word.
Save the Date

Christmas Day falls on a Wednesday this year. Your doctor's surgery and pharmacy are likely to be closed until Friday 27th December. Make sure that you organise your repeat prescription in good time. Remember that the days around new year will also be very busy and subject to closure.
Quiet Area

Where possible, aim to keep at least part of your routine and perhaps reserve a room or other space as a 'quiet' area.
Article courtesy of Able Magazine.