22 Mar 2019
The Evolution of the Smart Kitchen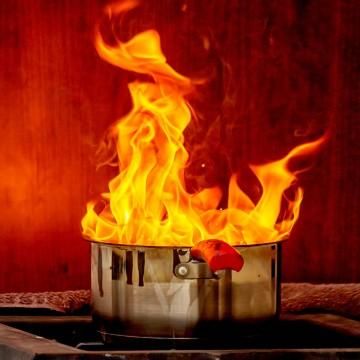 The Stove Guard from Finnish company Innohome, is a device that works out when the temperature of cooking is too high and potentially hazardous, and turns off the source of ignition. It is designed to support the all-important daily activity of cooking, enabling alcohol and drug users, older people and those with physical and cognitive difficulties to remain safe and independent at home.
On average, cooking causes over half of all accidental house fires. However, The Stove Guard provides an approach to managing cooker top safety without affecting normal cooking since it reacts to an alarm by turning the cooker's electricity supply off. The intelligent heat sensor in the Stove Guard follows the heat but in addition also tracks the rate of increasing temperature. A steeply rising temperature is an indication of a developing fire hazard. The Stove Guard is a smart way to guard against kitchen fires because it responds before the formation of toxic gases and before a fire is ignited. Added to this, the Stove Guard will cut off the electricity supply if the hob has been left on accidentally – the setting for this can be tailored to individual installations. Currently the device only works with induction hobs.
Easy to install and easy to use
The Stove Guard System can be installed by a qualified electrician in about 15 minutes. The Stove Guard Sensor's battery is charged from solar panels so there's no need for an external power source or the inconvenience of changing batteries Easy to use, the Stove Guard is operated with just the push of a button.
Adaptable, trustworthy and Highly intelligent
The Stove Guard can link into a Telecare System, alerting carers of potential fire hazards. It can be adapted with sensory signals, such as vibrating pads and flashing beacons for special user groups, such as the hearing or sight impaired or those with dementia. This highly intelligent fire safety technology also adapts to the tenant's cooking style, while its automatic fault diagnosis constantly analyses the Stove Guard's function when the hob is in use. An intelligent Heat Sensor Dislocation Alarm prevents cooker use if the Stove Guard Sensor has been removed.
Unlocking Fire Safety - Humberside Fire and Rescue Case Study
The Innohome Stove Guard was fitted after a social landlord teamed up with Humberside Fire and Rescue Service to protect an occupant suffering with narcolepsy. The occupant had made several emergency callouts because of cooker fires. After researching the options, Community Safety Advocate Michelle Farrell launched a pilot scheme using the Innohome Stove Guard in partnership with North Lincolnshire Homes. The pilot proved to be very successful, preventing emergency call outs and ensuring tenants remain safe and independent.
The Innohome Stove Guard is distributed in the UK and Ireland by Firechief Global. Sales@firechiefglobal.com / 0330 999 0019