30 Jun 2023
Purple Tuesday Global Conference Overview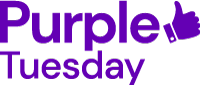 We are delighted to share an exciting recap of the recent Purple Tuesdays Global Virtual Conference held on the 14th and 15th of June. This enlightening event featured five exceptional sessions that explored a range of important topics, all centred around fostering accessibility and inclusivity within organisations.
The conference commenced with a bang, as thousands of participants from around the globe gathered virtually to embark on a transformative journey. With a focus on empowering organisations, these sessions delved into strategies and insights that are essential for creating environments that embrace diversity and cater to the needs of every individual. Topics included the Purple Tuesday story, disability and intersectionality, meeting your disabled customers consumer needs, representation in your marketing and communications and gathering disability data.
The Conference explored the fundamental principles of inclusivity, emphasising the significance of creating a welcoming space for all. Expert speakers shared their experiences and offered practical advice on removing accessibility barriers and shared tools to initiate positive change.
The Purple Tuesdays Global Virtual Conference was an incredible platform for organisations and individuals to learn, connect, and collaborate on the path to accessibility and inclusivity. It offered a wealth of knowledge and practical solutions to implement in our daily lives and workplaces.
We extend our gratitude to the speakers, and participants for making this event a resounding success. Let's carry the momentum forward and strive to build a world where accessibility and inclusivity are not just buzzwords but a reality for all.
Stay tuned for more updates on upcoming events and initiatives as we continue our collective journey towards a more inclusive and accessible future.
#PurpleTuesday #MovementMoving