30 Jun 2022
Lightweight folding Power Chair from eFOLDi nominated for prestigious Naidex award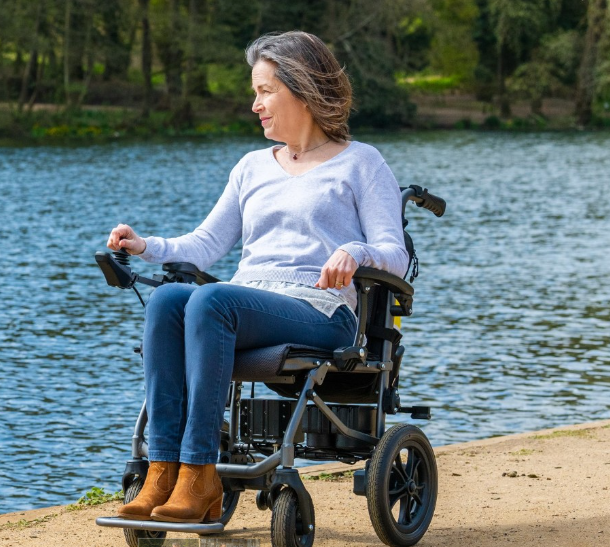 eFOLDi's ultra-portable folding Power Chair has been nominated for the 'Best-in-show' award at Naidex, the flagship event for the disability community, being held at the NEC in Birmingham, 6-7th, July 2022.
After successfully scooping the 'Innovation of the year' award at last years' Naidex with its 'Lite' folding travel scooter, eFOLDi is hoping to replicate its 'award-winning' formula with its lightweight powered wheelchair. Recognised as leaders in the design of portable scooters and wheelchairs, eFOLDi's mobility solutions are designed to be easy to store and transport, to help make travel simple and achievable.
Its popular Power Chair model is the world's lightest, most compact folding powered wheelchair and it comes with joystick controller as well as attendant control for total flexibility. Weighing just 15kg, excluding batteries, the compact powered wheelchair folds and unfolds in a matter of seconds - making it the perfect travel companion. No complex assembly is required - just unfold and go.
The Power Chair is also proving to be life-changing for end-users. Being extremely lightweight and portable means, it can fit easily into most car boots for everyday use, family days out and staycation holidays. The airline-friendly product is also opening up the world to users keen to travel overseas. The Power Chair can be driven right up to the plane door and then folded up, so it can be stored away easily in the cargo hold.
Tim Ross, National Sales Manager at eFOLDi, commented, "We are absolutely thrilled to be recognised, yet again, as innovators in the sector and it's a huge honour for our team. We continue to innovate by focusing our research and development on the latest battery technology and lightweight component materials to reduce the overall weight of our products and help make travel simpler and easier for end-users"
The Power Chair model accommodates users up to 135kg and incorporates advanced, lightweight, lithium-ion battery technology that delivers an impressive 8-mile range. Its energy efficient design also means running costs equate to less than 1p per mile.
eFOLDi will be showcasing a range of ultra-portable mobility products and accessories at this years' Naidex. Visit the eFOLDi team on Stand F40 for a product demonstration or visit www.efoldi.com for more information.