27 Apr 2021
'If you have a body, you are an athlete.'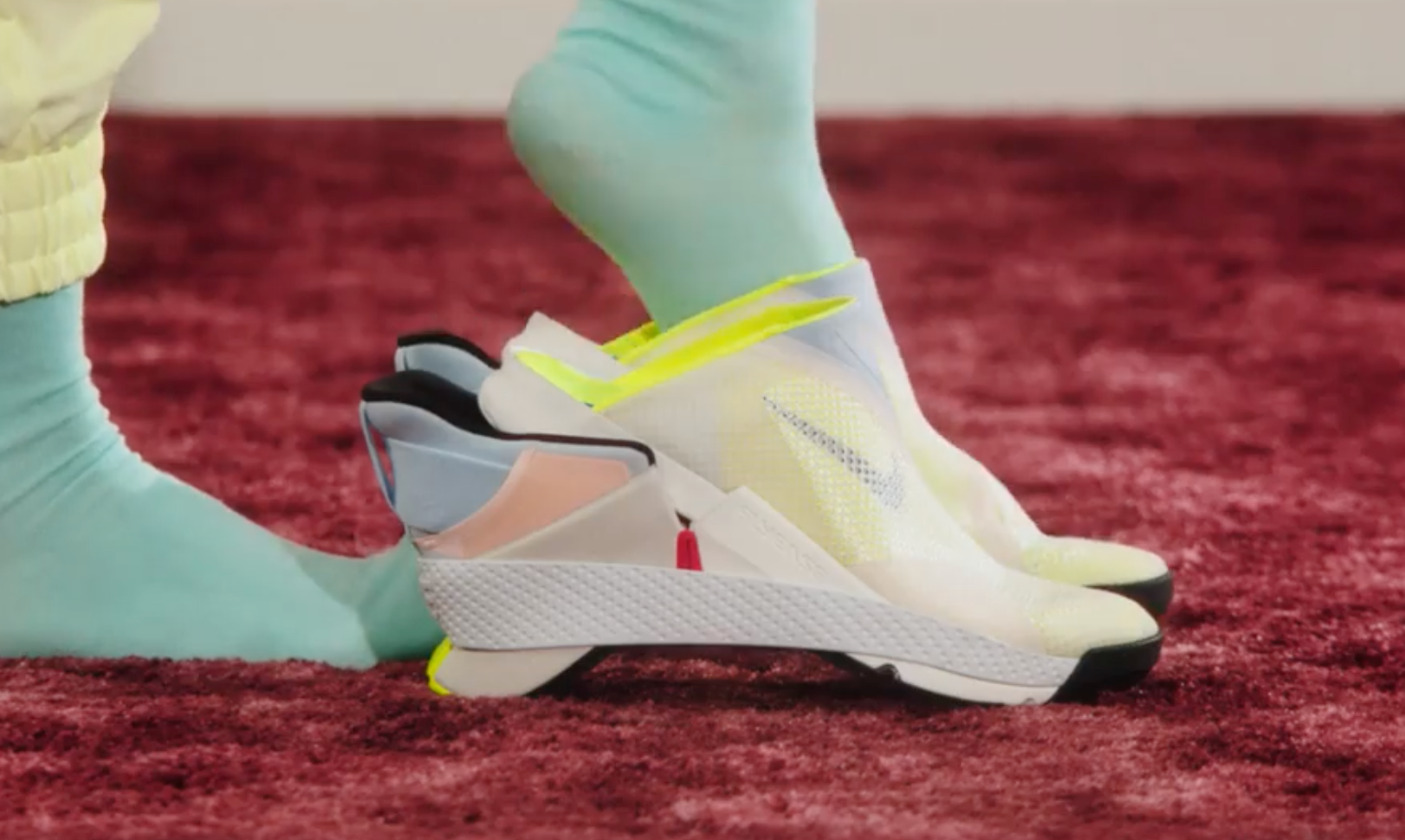 Recently, sportswear giant Nike announced the release of its first ever hands-free shoe. As a brand well known and associated with elite athletes, Nike shows to be making good on their mission statement by adopting an inclusive outlook with the release of their new shoe designed to be accessible to all.
Bring inspiration and innovation to every athlete* in the world.
* If you have a body, you are an athlete.
· [Nike's Mission Statement]
The new release, named the GO FlyEase, is the latest addition to Nike's innovative FlyEase series which was originally designed with disabled athletes in mind by replacing all laces with zippers and straps. The GO FlyEase takes this inclusive concept even further, allowing users to step into the shoe without making any adjustments.
Like the original FlyEase trainers, the latest release is designed to make the act of putting shoes on and taking them off as easy as possible for wearers. The original idea was to support disabled athletes however, throughout the process, Nike has found the shoe is universal.
The FlyEase is a show without laces. By using hinges instead of laces, it is literally a shoe you can just step right into without needing the use of your hands. For many with disabilities such as autism, cerebral palsy and dyspraxia, tying shoelaces can be a daily problem and so the release of this shoe is certainly welcome news for these individuals.
The development and release of the FlyEase series was the result of a letter Nike received in 2012 from Matthew Walzer, a US teenager with cerebral palsy. Like many, Matthew's condition did not hold him back however, shoelaces still presented a problem. Having worn Nike basketball shoes all his life for their ankle protection, he wrote, 'At 16 years old, I am able to completely dress myself, but my parents still have to tie my shoes.'
Matthew's letter and his want to become more self-sufficient spurred a team of some of Nike's top designers into action which led to the creation of an accessible shoe which uses a hinged sole in place of laces, zippers or straps. With the backing of many disabled athletes, including Paralympic fencer Beatrice Vio, Nike's new technology is groundbreaking in taking steps towards more accessible and inclusive clothing.
Nike is not the only big fashion brand trying to make clothing more accessible to all. Even as far back as the 70s, jean maker Levi Strauss & Co, introduced stretch denim with longer zippers. Fashion giant Tommy Hilfiger also carries a range of inclusive clothing under the brand name, Tommy Adaptive. Zappos, an American online clothing retailer introduced footwear that was both fashionable and functional in 2017. These are just but a few of the fashion brands that are recognising that designing for people with disabilities isn't a trend, it's a necessity.
'Adaptive design is a basic human right,' says Maura Horton the founder of 'Juniper,' which is a newly launched clothing website aiming to be the ASOS for accessible clothing. It is sites like these and innovative brands such as 'Cur8able,' an adaptive clothing company, that are spearheading this movement. Stephanie Thomas, Cur8able's founder, has made it her mission to eradicate negative perceptions of people with by consulting major fashion brands on the reasons to include accessible clothing as part of their product offerings.
Couple these forward-thinking companies with the 'Age of the Influencer' and it is easy to see why brands are not only listening to the needs of the disabled community but actively seeking them out. The boom in social media has given a voice to under-represented groups who are now, quite rightly, demanding to be seen and heard. Influencers such as wheelchair user Tess Daly and amputee model Bernadette Hagans have been instrumental in spreading awareness for the need of more accessible clothing.
Clothing brands still have a long way to in terms of increasing fashion inclusivity however, having an international giant such as Nike on board, the impact on the growing adaptive fashion movement will be massive.
Image Credit: Nike https://www.nike.com/gb/flyease/go-flyease