31 Jul 2023
Hidden Disabilities Sunflower and Christ the Redeemer: Representing diversity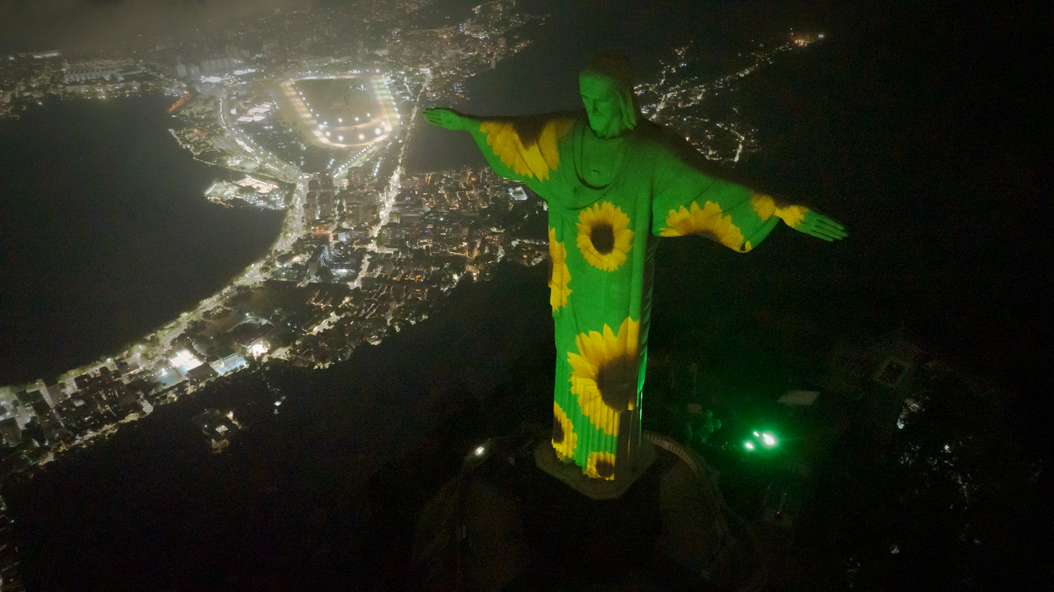 By Hidden Disabilities Sunflower
The Hidden Disabilities Sunflower was projected onto Christ the Redeemer in Rio de Janeiro, to highlight to the millions of Brazilians and tourists who have hidden disabilities that they will receive additional support, understanding or time when they visit Christ the Redeemer
Hidden Disabilities Sunflower, which originated in the United Kingdom and is gaining momentum in Brazil, brings with it the hope for more empathy and inclusion.
Law in Brazil
Hidden Disabilities Sunflower was launched in Latin America in April and Brazil has just passed Law No.14.624, to recognise the Hidden Disabilities Sunflower as the national symbol for hidden disabilities. Find out about the legislation by clicking here.
Inclusion in Rio de Janeiro
The state of Rio de Janeiro is at the forefront of promoting inclusion, establishing a significant partnership with the Christ the Redeemer Archdiocesan Sanctuary, an iconic symbol of the country that welcomes visitors from around the world. This initiative aims to ensure that they receive the necessary assistance if they require support due to their invisible condition
Hidden Disabilities Sunflower
The use of the Sunflower is not mandatory, and its use does not provide priority when queuing or any other advantages.
What is a hidden disability?
Globally one in six people has a disability, with over 70% of those having an invisible disability.
Hidden disabilities are not immediately apparent. Living with these conditions can make daily life more demanding. They affect each person in different ways and can be painful, and isolating. Without visible evidence of the hidden disability, it is often difficult for others to understand the challenges faced and realise what help might be needed.
Disabilities can be situational, for example, a nut allergy; temporary, for example, a hip operation; or permanent, for example, muscular dystrophy.
For a list of hidden disabilities visit: https://hiddendisabilitiesstore.com/disabilities-form
Where is the Sunflower available:
The Hidden Disabilities Sunflower is available for free from businesses that are members of the Hidden Disabilities Sunflower global network or, Sunflower lanyards, wristbands and pin badges can be purchased from the online shop for your country.
How the Sunflower started:
Hidden Disabilities Sunflower Business Development Director, Ruth Rabet, says: "I worked in London Gatwick's Airport Passenger Advisory Group where we recognised there were a lot of passengers travelling through the airport who had hidden disabilities and we wanted to have a better understanding of how we could recognise these people and more importantly, how we could help them. We worked with local and national charities to come up with the idea of the lanyard."
How the Sunflower works:
Anyone with a hidden disability can get a free lanyard from participating organisations or can purchase a lanyard from the Hidden Disabilities Sunflower website. Businesses and organisations can purchase them for staff. The lanyard doesn't guarantee preferential treatment, it just symbolises the wearer might need extra help or support.
Why a sunflower?
The Sunflower logo was chosen, in collaboration with charities, to reflect the idea of confidence, growth and strength shown by people with invisible disabilities, as well as symbolising happiness and positivity.
Which businesses use the Hidden Disabilities Sunflower?
Between 2016 and 2018, the Hidden Disabilities Sunflower Lanyard was rolled out across all major UK airports, with the emphasis on using the same symbol so that people with extra needs were recognised wherever they travelled. The idea was such a success, it was then introduced in NHS trusts and surgeries, international airports, UK rail providers and major supermarkets.
The Sunflower is now recognised globally across a broad range of sectors - from retail, financial services, transport including airlines and airports, travel and tourism as well as universities, schools and colleges, rail, theme parks, supermarkets, leisure facilities, healthcare, financial services, emergency services, theatres and charities. Discover the locations here: https://hdsunflower.com/find-the-sunflower/
The Sunflower has been launched locally in Australia, Belgium, Canada, Denmark, Ireland, the Netherlands, New Zealand, the UK, the UAE, the USA and Latin America.
Why is training crucial for staff and volunteers?
CEO Paul White, says: "It's imperative staff at retailers, businesses and public spaces know to recognise the lanyard, why someone is wearing it and how to help. It's about being confident enough to smile and ask: 'How can I help you today?' It's not mandatory to wear and people do not have to share their disability."
Check out the Hidden Disabilities Sunflower full article here.