14 Aug 2023
Disability Rights Champion Shani Dhanda Appointed as Head of Accessibility & Inclusion at ROAR B2B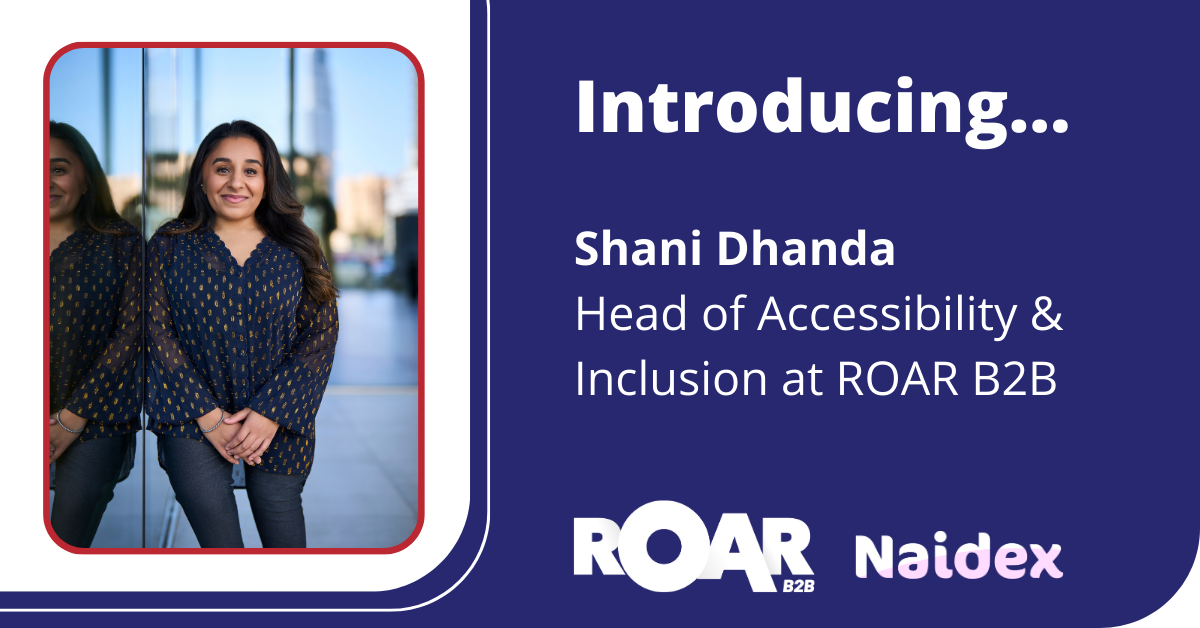 London, August 15th, 2023. Today, ROAR B2B (organisers of Naidex) have announced that Shani Dhanda has joined the business as Head of Accessibility & Inclusion.
As the organiser of the UK's flagship disability event, Naidex (National Accessibility, Inclusion & Disability Expo), ROAR B2B is an industry leader with regards to accessibility. In her role as Head of Accessibility & Inclusion, Shani will work with the ROAR B2B management team to create and embed an accessibility framework across their full event portfolio and wider business operations.
Shani is one of the UK's most influential disabled people and BBC's 100 Women laureate of 2020. She helps businesses and brands break barriers and become more inclusive and accessible for their disabled employees and customers.
As a South Asian woman who experiences disability, Shani has taken the change she wants to create in the world into her own hands. Her intersectional activism has led to challenging social inequality globally through entrepreneurship, and she is the founder of Diversability, the Asian Woman Festival and the Asian Disability Network.
Shani Dhanda comments, "Roar B2B focuses on the sectors that shape our lives, communication, and work – now and in the future. I couldn't be more thrilled to be part of their exciting journey, making accessibility and inclusion the heart of everything they do. Leveraging my expertise in events management and inclusion, I look forward to collaborating across our operations, ensuring that inclusivity becomes an integral part of our organisation from within. Together, we'll ensure our events offer equitable access and participation for everyone."
Duncan Kirk, CEO at ROAR B2B comments, "We are thrilled that Shani has joined the Roar B2B team as Head of Accessibility & Inclusion. As the organiser of Naidex we have always taken accessibility and inclusion very seriously and now want to take things one step further by rolling out an accessibility framework across all our events. Shani is a fantastic figurehead in the disability community, and we are honoured to have someone with her knowledge and skills to help us as we strive to ensure that accessibility is part of the fabric of ROAR B2B. Should any other event organiser be interested in the steps we are taking, we'd be more than happy to share any insights that we can to help raise standards across the industry."

You can find out more about Shani and her work here.
You can find out more about ROAR B2B here.
Photographer: Sebastian Böttcher
ID: A blue banner with an image of Shani Dhanda on the left in a red and white boarder, with the image showing Shani Dhanda standing outside, smiling, leaning against a reflective surface (her image is reflected on the left). Shani is a South Asian short-stature woman in her mid-thirties with long brown hair. To the right of the image reads 'introducing Shani Dhanda Head of Accessibility & Inclusion at ROAR B2B' and below is the Naidex and ROAR B2B logos in white.