05 May 2023
Celebrating 50 years: National Accessibility, Inclusion & Disability Expo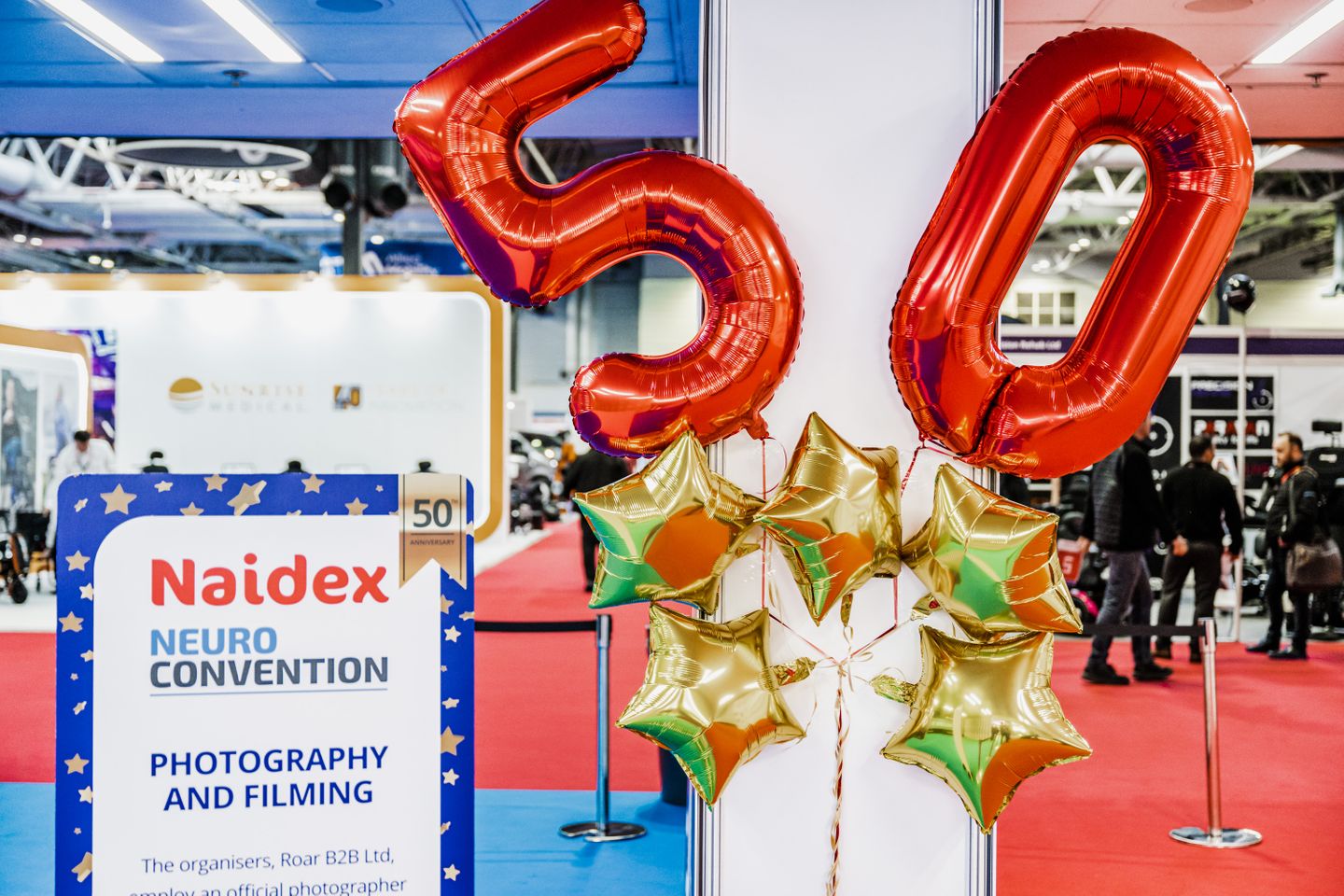 Naidex, the UK's largest event dedicated to the disability community returned to the NEC Birmingham on 22 - 23 March 2023, celebrating a landmark of 50 years.
The event welcomes thousands of attendees annually to get together to meet up with friends, make new connections, browse products and services for independent living, share experiences, and work to remove barriers for an inclusive society, accessible to all.
Much loved favourites from previous years such as The Village Green, Adaptive Climbing Wall, Naidex Marketplace and the Mobility Test Track made a return. With live performances and activities on the Village Green encouraging visitors to join a dance workshop with Kate Stanforth Dance Academy, a football taster session with the Albion Foundation, a Wheelchair Basketball taster session with Make a Change and cooking sessions with Mr Cookfulness!
The Adaptive Climbing Wall, run by the team from the Outdoor Education Company had attendees climbing with traditional harness or 'para harness' suitable for wheelchair users.
Naidex Marketplace, in partnership with Disability Horizons, offered visitors the opportunity to shop for smaller and affordable daily aids, tools and resources.
The 50th edition featured a stellar line-up of inspirational speakers. Ellie Simmonds OBE, Tommy Jessop, Lauren Steadman MBE, Steve Thompson MBE, Shani Dhanda & Samantha Renke took to the Main Stage to share their personal experiences.
In celebration of 50 years of Naidex, Aaron Simmonds and Lee Ridley 'Lost Voice Guy' closed the event on the Main Stage with a free comedy hour, which filled the event hall with laughter.
For healthcare professionals, Naidex offered an array of live demonstrations to help provide a person-centred approach in sourcing products and services for clients, ranging from mobility & assistive tech, care, education, sports & lifestyle and accessible living conditions.
The CPD accredited seminar agenda, delivered valuable content for professional development, with the new Accessibility and Care theatre having featured sessions from Steve Ford (RCOT) to Mike Cowan-Jones (ARMS Rehab).
Naidex also offered a fantastic platform to the trade community to explore the latest technology and innovations in the industry. Trade Visitors had access to hundreds of exhibitors and were able to talk directly to the key manufacturers, retailers and distributors. Some exhibitors that joined us included: Triride, Precision Rehab, Permobil, Airbnb, Baldertech, Hidden Disabilities Sunflower, KCo Beauty, Lloyds Banking Group, Rollz and Wiltshire Farm Foods.
Testimonials
Tom Jamison, Editor at Able Magazine (Headline Media Partner) "It's really important for any business to engage with its customers, or in our case, readers and advertisers. Again, being headline media partner with Naidex was exactly the right choice for Able Magazine. Within moments of opening, the aisles were busy with disabled people looking with real purpose for their next independent living solution – and there was no drop-off until the very end of the show.
Sometimes partnerships just work, and that's the case with Naidex and Able Magazine. We share the same positive perspective regarding disability and independent living, best described by our motto: 'What disabled people can do, not what they can't. See you next year!"
Nathan Milgate, General Manager at Triride writes "Naidex 2023 was another great exhibition for Triride UK, a chance to meet new and prospective clients plus an opportunity to catch up with our existing Triride users. The footfall at the show was great, consistent throughout the day meaning our team didn't stop on the stand for the two days, which is always what you hope for when attending an exhibition as an exhibitor! All of the visitors to our stand were positive about their experiences throughout the day with the additional activities/speaking sessions on offer throughout the day. All in all a great show for both us as an exhibitor and the show's visitors."
Naidex 2024 will take place on 20-21 March at NEC Birmingham. To pre-register click here.
For sales and sponsorship enquires please email: sales@naidex.co.uk